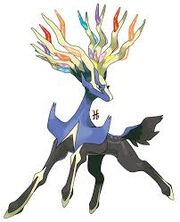 I bring life, but I  will not hesitate to deal justice.
Xerneas
Class: Blaster
Health: 3/5
Stamina: 3/5
Attack: 4/5
Defense: 2/5
Accuracy: 3/5
Evasion: 3/5
Team-Up Bonuses:
Pokemon 
Legendary
Life and Death
Furry
Passives:
Fairy Aura

​All attacks have Finest Hour!

Life Bringer

​Restores health to all characters when defeated.
Moves:
Dazzling Gleam (Ranged Energy) - All enemies, 1 hit.

​Distraction (30%)
Blinded (30%)
Disoriented (15%)

Geomancy (Buff) - Cooldown: 2 rounds

Rising Up​
Geomancy

Raises all stats 15% next round

Quick Action

Megahorn (Melee Slashing) - Single target, 1 hit

​Deadly Crits
High Crits

Moonblast (Ranged Energy)

Weakened
Impaired