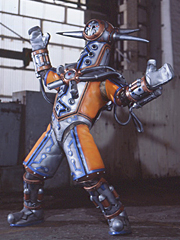 Bio
An arsonist in 4,103 cases and with 3 charges of planetary incineration. He is of the Pyrians, flame-based beings who sometimes wear protective suits to move freely in places like Earth. The Dekarangers are unaware of this until Tetsu figures out his weakness from the girl he has saved and is able to strike Korachek with his Super Impulse fist attack. Kurachek also has an Extra LL giant sized version of his suit. His body temperature is 2,500 degrees Celsius and then when he becomes giant, it increases by 500. His suit is deleted by DekaWing Cannon, leaving his naked body to be extinguished by the coldness of space.
Class: Blaster
Gains Focused Attacks when attacking or attacked by Bruisers. Attacks are guaranteed to crit and ignore defense.
Passives
Pyrian - immune to Bleeding and Fire debuffs. Very high crit resistance. Fire attacks heal instead of harming. Chance to get Flame On! on the start of the round. Vulnerable to Ice and Water attacks.
Relentless - immune to Stun, Cower, Exhaustion, and Prevention effects.
Attacks
Fire Cut
Ranged Slashing Fire
One Enemy
(enemy) Weakened - attack reduced by 25%
Explosion
Ranged Fire Explosion
One Enemy
(special) Catastrophic - always hits and cannot be protected against
(special) Deadly Crits - deals extra damage on critical hits
Fireballs
Ranged Fire
One Enemy
5 hits
(special) Combustible - always crits burning targets
(enemy) Lock-On - takes extra damage from ranged attacks
(enemy) Dizzy - accuracy reduced by 25%
Flame Stream
Ranged Fire
One Enemy
5 hits
(enemy) Burning - takes damage each turn. Defense reduced.
Ring of Fire
Ranged Fire
One Enemy
(enemy) Ring of Fire - takes fire damage when performing melee attacks
Decimate
Unarmed Melee
One Enemy
2 hits
(enemy) Remove Buffs
Nova Blast
Ranged Fire Explosion
All Enemies
(special) Catastrophic - always hits and cannot be protected against
(enemy) Melt Armor - all attacks against this target ignore the defense stat
Community content is available under
CC-BY-SA
unless otherwise noted.