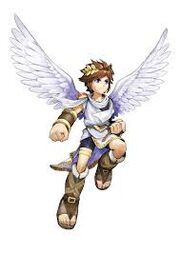 "Now that Skyworld is safe, I can help you mortals out. My bow and blades will strike a blow for justice."
Pit
Class: Scrapper
Health: 2/5
Stamina: 4/5
Attack: 3/5
Defense: 3/5
Accuracy: 5/5
Evasion: 4/5
Team-Up Bonuses:
Aviary
Arcane Arts
Feathered Friends
​You Have My Sword
Smasher
Heavenly (with Angel)
Passives:
Flying
Palutena's Commander

High chance to summon angels for a weak AOE attack.
Level 1 - Palutena's Bow (Magic Energy Ranged) - Single target, 1 hit

True Strike
Goddess' Blessing

Restores a small amount of health and stamina to all allies.

Ethereal Strike

Level 2 - Angel's Wings (Buff) (2 Round Cooldown)

Angel's Wings- 100% chance to avoid attacks for one round

Level 6 - Bow-Blades (Melee Magic) - Single target, 4 hits.

Finest Hour
Ethereal Strike
Boon Buster

Level 9 - Mirror Shield (Buff)

​Mirror Shield

Reflects all damage and debuff effects for one round
Counter attacks, stealthy attacks, ground attacks, and psychic attacks are not reflected.
Can only be used once per fight