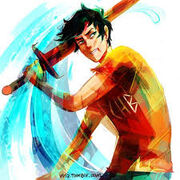 "I love a good fight! And food. Is there anything to eat?"
Percy Jackson
Class: Scrapper
Health: 4/5
Stamina: 4/5
Attack: 3/5
Defense: 3/5
Accuracy: 4/5
Evasion: 2/5
Team-Up Bonuses:
Godlike
You Have My Sword
Alias-Less
Arcane Arts
Bloodlust
Passives:
Blood of Poseidon

​Healed by water attacks.
Takes half damage from fire attacks.

Demigod Reflexes

​20% chance to avoid and counter melee attacks.
Moves:
Riptide (Melee Slashing Magic) - Single target, three hits.

Deals extra damage against demons.
Ethereal Strike
Bleeding

Greek Style (Melee Slashing Buff Magic) - Single target, one hit.

Deals extra damage against demons
Greek Style (One Round)

Chance to preemptively counter area attacks.

Hemorrhaging attack
Flanked

Power of Poseidon (Water Ranged) - All enemies, one hit. 2-round cooldown.

Pressure Points
Catastrophic
Saltwater

Heals Percy a small amount

Level 9 - Son of the Earthshaker (Ground Magic) (2 Round Cooldown) - All enemies, three hits. 

​Catastrophic
Paragon Exploiter
Ground Attack
Deadly Crits