"..."
Link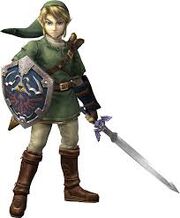 Class: Scrapper
Health: 3/5
Stamina: 5/5
Attack: 4/5
Defense: 4/5
Accuracy: 3/5
Evasion: 3/5
Team-Up Bonuses:
Hylian Hero​
Bloodlust
You Have My Sword
Smashers
Fully Loaded
Passives:
Hylian Shield

Chance to take reduced damage from ranged attacks.

Triforce of Courage

Immune to fear effects.
Resistant to mental attacks.

Blade of Evil's Bane

​All attacks have Exploit Attrition
Moves:
Hero's Bow (Ranged Slashing) - Single target, 1 hit.

Bleeding
Pinpoint Target
Strengthened

Boomerang (Ranged) - All enemies, 2 hits.

Circular Strike
Opportunist
Fortified

Bomb (Ranged Explosive) -  Single target, 1 hit.

Burning
Shrapnel
Melt Armor
Agile

The Master Sword (Melee Slashing) - Single target, 3 hits.

Ignore Defense
Deadly Crits
Ravaged
Exploit Opportunity
Finest Hour!