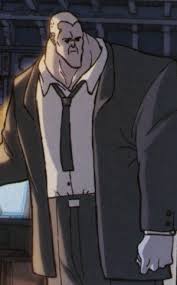 "If helping out makes a safer world for master Artemis to live in, then help I shall. Just don't get in my way."
Butler
Class: Bruiser
Health: 4/5
Stamina: 4/5
Attack: 4/5
Defense: 4/5
Accuracy: 4/5
Evasion: 4/5
Team-Up Bonuses:
Artemis' Posse
Big Guns
Fully Armed
Passives:
Blue Diamond Bodyguard

​Chance to protect allies from single-target and area attacks
Gains a stack of Protective after protecting

Protective

​Increases attack and defense by 3%
Stacks indefinitely

Madame Ko's Training

Resistant to Unarmed and Gun attacks.
Moves:
Sig Sauer 9mm (Ranged Gun) - Sinlge target, 3 hits.

​Perforated

Taking increased damage from gun attacks

Cornered
Deadly Crits
Consumes one stack of Protective to do extra damage

Wallbreaker (Melee) - Single target, 1 hit.

​Breakthrough
Exposed
Consumes one stack of Protective to do extra damage

Crazy Bear (Melee Unarmed) - Single target, 2 hits.

​Wind Up
Pummeled
Combo Setup
Consumes one stack of Protective to do extra damage

Domovoi (Melee Unarmed) - Single target,  3 hits.

​Exploits Combos
Exploits Exposed
Consumes all stacks of Protective to do extra damage