Aphrodite Pandemos
Base Stats
Health:
  140
Stamina:
  130
Attack:
  25
Defense:
  25
Accuracy:
  25
Evasion:
  25
Effects:
Cost and Requirements:

200

Organization/s:

Greek Gods.

Bio:

There are too few words to describe the radiance, the magnificence, the inequitable glory of Aphrodite, Goddess of Beauty. So wondrous is she to behold that one look can inspire tears, desire, jealousy, and love. Yet, beneath her flawless exterior resides a heart burdened with pettiness & cruelty, but most importantly - insecurity. The fairest of them all joined the war as a quest for redemption, self-identity and to prove her true worth, for she recalls the destruction of the catastrophic Trojan War. Perhaps this time, her beauty can be used to stop a war instead of starting it. Perhaps, this time, she will discover the beauty within.

Unwanted Marriage

Stamina Cost:
8%
Target:
One Enemy
Cooldown:
n/a
# of Hits:
4
Hit/Critical:
95% / 22%
Type:
Magic Ranged

Special Properties
 

Exploits Delirium



One Enemy
 

Fragile Resolve


 

Peer Pressure

Kissing Strangers

Level 2

Stamina Cost:
7%
Target:
One Ally
Cooldown:
n/a
# of Hits:
n/a
Hit/Critical:
100%
Type:
Magic Debuff Buff

Special Properties
 

Subtle


 

Quick Action



All Enemies
 

Petty Fighting

(20%)

Self
 

Pandemos

Flirt

Level 2

Stamina Cost:
6%
Target:
One Enemy
Cooldown:
n/a
# of Hits:
n/a
Hit/Critical:
100%
Type:
Magic Ranged Heal

Special Properties
 

Subtle


 

Love Triangle



Other Enemies
 

Fragile Resolve


 

Lured



One Enemy
 

Third Wheeler
 Aphrodite Urania
Base Stats
Health:
  140
Stamina:
  180
Attack:
  25
Defense:
  25
Accuracy:
  25
Evasion:
  25
Effects:
Cost and Requirements:

200

Organization/s:

Greek Gods.

Bio:

There are too few words to describe the radiance, the magnificence, the inequitable glory of Aphrodite, Goddess of Beauty. So wondrous is she to behold that one look can inspire tears, desire, jealousy, and love. Yet, beneath her flawless exterior resides a heart burdened with pettiness & cruelty, but most importantly - insecurity. The fairest of them all joined the war as a quest for redemption, self-identity and to prove her true worth, for she recalls the destruction of the catastrophic Trojan War. Perhaps this time, her beauty can be used to stop a war instead of starting it. Perhaps, this time, she will discover the beauty within.

Venus Rain

Cosmic Singularity

Level 2

Stamina Cost:
7%
Stamina Cost:
7%
Target:
All Enemies
Target:
All
Total Damage:
343 - 454
Total Damage:
n/a
Cooldown:
n/a
Cooldown:
2 Rounds
# of Hits:
5
# of Hits:
n/a
Hit/Critical:
85% / 35%
Hit/Critical:
100%
Type:
Magic Ranged
Type:
Magic Buff

Special Properties
 

Determination Attack



All Enemies
 

Cosmic Burn


Special Properties
 

Subtle



All Allies
 

Singularity of Love

Over the Globe

Level 6

Undying Love

Level 9

Stamina Cost:
7%
Stamina Cost:
7%
Target:
All Allies
Target:
All
Total Damage:
n/a
Total Damage:
n/a
Cooldown:
2 Rounds (starts off CD)
Cooldown:
3 Rounds
# of Hits:
n/a
# of Hits:
n/a
Hit/Critical:
100%
Hit/Critical:
100%
Type:
Magic Ranged Buff
Type:
Magic Heal
• "And over the Rainbow!"

Special Properties
 

Subtle



All Allies
 

Celestial Shield



Other Allies
 

Swan Blessing


 

Tortoise Blessing


Special Properties
 

Subtle



Other Allies
 

Soulmate



Self
 

Patron of Homosexuality
 Aphrodite Areia
Base Stats
Health:
  140
Stamina:
  120
Attack:
  25
Defense:
  25
Accuracy:
  25
Evasion:
  25
Effects:
Cost and Requirements:

200

Organization/s:

Greek Gods.

Bio:

There are too few words to describe the radiance, the magnificence, the inequitable glory of Aphrodite, Goddess of Beauty. So wondrous is she to behold that one look can inspire tears, desire, jealousy, and love. Yet, beneath her flawless exterior resides a heart burdened with pettiness & cruelty, but most importantly - insecurity. The fairest of them all joined the war as a quest for redemption, self-identity and to prove her true worth, for she recalls the destruction of the catastrophic Trojan War. Perhaps this time, her beauty can be used to stop a war instead of starting it. Perhaps, this time, she will discover the beauty within.

Shield Slam

Love is a Battlefield

Level 2

Stamina Cost:
15%
Stamina Cost:
15%
Target:
One Enemy
Target:
All Enemies
Total Damage:
753 - 927
Total Damage:
453 - 828
Cooldown:
n/a
Cooldown:
2 Rounds
# of Hits:
1
# of Hits:
1
Hit/Critical:
98% / 56%
Hit/Critical:
85% /21%
Type:
Melee
Type:
Ranged

One Enemy
 

Stun


 

Pressure Points



Other Enemies
 

Despair


All Enemies
 

Fragile Resolve


 

Confusion



All
 

Combat Awareness



Self
 

Protect


 

No Escape

Domination

Level 6

Fatal Finisher

Level 9

Stamina Cost:
15%
Stamina Cost:
20%
Target:
One Enemy
Target:
One Enemy
Total Damage:
888 - 999
Total Damage:
1325 - 1620
Cooldown:
n/a
Cooldown:
2 rounds
# of Hits:
5
# of Hits:
2
Hit/Critical:
79% / 55%
Hit/Critical:
81% / 42%
Type:
Melee Slashing
Type:
Slashing Ranged

One Enemy
 

Slave 4 U


 

Outstanding Pain


Special Properties
 

Areia's Scheme


 

Exploits Delirium


 

Paragon Exploiter


 

Trojan Horse
Dialogue:
APHRODITE
Why hello there, handsome. I fear that you might have started doubting my power. Worry not, for you are not the first.
APHRODITE
Many beings have underestimated my potential. The truth is, you will never understand the capabilities of Love, Beauty, Desire and Lust until we all, fall, down.
APHRODITE
Soon, dearest, you will know first-hand why the fairest of them all, is the mightiest one of all. Soon, you will see how love truly hurts.
General Team-Up Bonuses:
Alias-Less: Heroes who go by their first names and last name.
Arcane Arts: Heroes who use magic.
Chain Gang: Heroes that use chains.
Dr. Doolittle: Heroes who can talk fluently with another species.
Familiar: Heroes that summon creatures to attack
Fashionistas: Heroes that have been a fashion designer or model.
Flirt: Heroes who are known to be flirtatious.
Godlike: Heroes who are mythological gods (or demigods).
Hellenic: Heroes with Greek Ties.
Mind Games: Heroes with psychic abilities.
Portable: Heroes who can teleport.
Throw the Shade: Sassy Heroes.
Specific Team-Up Bonuses:
A mix of Everything: Umar and Aphrodite.
Beauty, Sanity, Relative: Ebony Maw and Aphrodite.
Clash of Ideas: Hera and Aphrodite.
Celebrity Lookalikes: Lady Gaga and Aphrodite.
Fairest of them All: Heroes who tried to be the "Fairest" of them all. (Aphrodite, Athena, Hera, Snow White and the Evil Queen)
Goddesses of Love: Amora (Freya) and Aphrodite.
Half A Virgin: Regina George and Aphrodite.
Heartkiller: All the Femme Fatales, such as Amora, Lorelei, Aphrodite and Poison Ivy (Agentk/Shadow757).
"In this version, Beauty KILLS the Beast": Jabba the Hutt and Aphrodite.
Levels of Cruelty: Da Ji and Aphrodite.
Love and War: Ares and Aphrodite.
Related Births: Phoenix and Aphrodite.
Two Moms: Persephone and Aphrodite. Raising the same boy together who grew up to be an extremely beautiful lad, Aphrodite immediately wanted him while Persephone needed to keep him in the underworld. They couldn't agree on who got to keep the mortal until they finally agreed to share. One got to keep him during one part of the year, and the other during the other part of the year.
Weeping for the Tragedy: Any of the Gorgon sisters and Aphrodite.
You!: Discordia and Aphrodite.
Character Notes:
Despair and effects alike have been reworked. They may be reworked a second time, not completely negating resurrection effects.
Aphrodite is a misguided character that tries to be the hero, coming to the battlefield as a very confused person trying to find their self-worth and redeem for some of their past actions - Such as the Trojan War.
Aphrodite has many values, some that also contradict one another (Kissing Strangers vs Undying Love to one person). It represents love, desire, lust and beauty pretty well, as something extremely fickle. This is especially explored in her Special Operation, where we talk about her accounts of cruelty and pettiness, while also mentioning her acts of great benevolence and compassion.
Aphrodite has 3 main Motifs in her

Playing around Creator of Love. In Pandemos, through Third Wheeler, she deals damage to those unhealed. In Urania, she restores the healing to her allies as well. In Areia, she attempts to negate it (despair got nerfed) and darken it with war.
Effects with the colors of the character. Pandemos has Pandemos, an effect that is supposed to showcase her power and how it affected ancient civilizations (historically!), Urania has Patron of Homosexuality (quite important to the character, that was seen as pure love back then), and Areia has her scheme (a brilliant general!)
Their own passives, presenting her with different big titles. "Author of Lust, Creator of Love, Paragon of War" etc...
Combat Notes
In Petty Fighting, the damage negation is supposed to apply ONLY to that effect. That's why it's petty. It only applies debuffs and whatnot, it's not a full-on fight.
Aphrodite cannot switch to her other uniforms DURING BATTLE anymore. They are all different and separate. I've concluded that it made her too messy and problematic, so I've made them 3 different uniforms that you receive upon completing the Spec Ops.

However, she may receive an ISO that allows her to switch to another epithet, once per wave.

Trojan Horse is for both debuffs and buffs given by the target's allies. Through Creator of Love and many other ways, Aphrodite can achieve the former.
Undying Love heals ALL characters. While healing your enemies is usually bad, Child of Heaven makes it so that Aphrodite heals her entire team, twice!
Aphrodite heals her enemies (the two not selected) with Flirt. It's a very small heal, however.
Kissing Strangers having no cooldown is a trap. If you use it more than once, Pandemos' duration will get reset, the main power of the ability. Use it well!

References:
"From the planet... Venus!" - Venus by Lady Gaga.
"Over the Rainbow!" - The wizard of Oz.
"Love is a Battlefield!" - Love is a Battlefield by Pat Benatar.
"Kissing Strangers" - Kissing Strangers by DNCE.
Any feedback is welcome :)
CREDITS
To Reddit user u/AvriellaIvvel for their ASTOUNDING Aphrodite Areia art.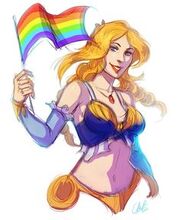 Community content is available under
CC-BY-SA
unless otherwise noted.